Rehabilitation of a Green wall system that has not stood the test of time. Our company was awarded the removal and re-installation of a "Marquee" green wall at the Enercare Centre located in Toronto, Ontario, Canada which is one of North Americas busiest convention centres.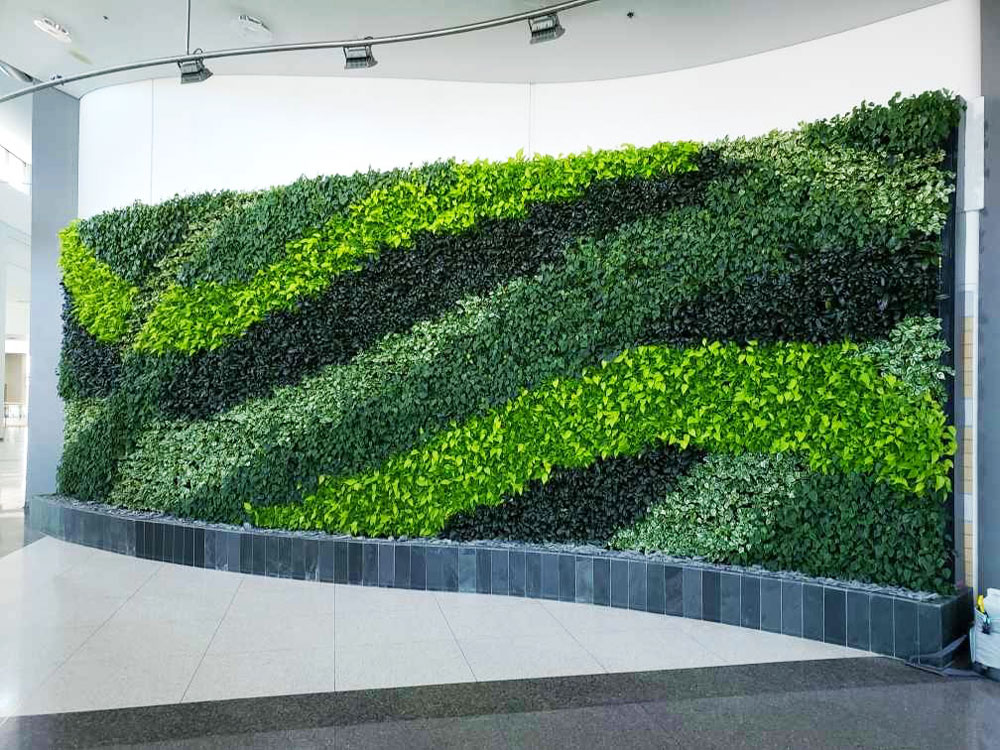 Our client desired to breathe new life into a space that has held a 36′ wide x 10′ tall s curved green wall. This photo here shows the state of the green wall prior to removal. Infested with mealy bug and spider mite and constantly being watered led to substantial plant loss during the life span of this green wall system. They worked with the manufacturer and other professionals however they could not turn things around. They truly hoped for a good looking green wall and we wanted to make it happen for them!
The chosen green wall design. Wave like patterns accentuating the S curve design of the support wall. We wanted to spec plant species that we know are tough. Philodendron Cordatums, Neon Potho, Pearl & Jade potho and Ficus burgundy rubber all in 4″ grow pots. A total of over 2400 – 4″ plants were required to complete the clients vision.
Photo of the removed green wall. The removal was completed in 1 day. We required the area around the green wall to be cordoned off for safety of the public an the installation crew. At this point, the cleaning of the support wall, plumbing and prepping of the plywood backing were left to the on site convention centre unionized staff we were working in partnership with.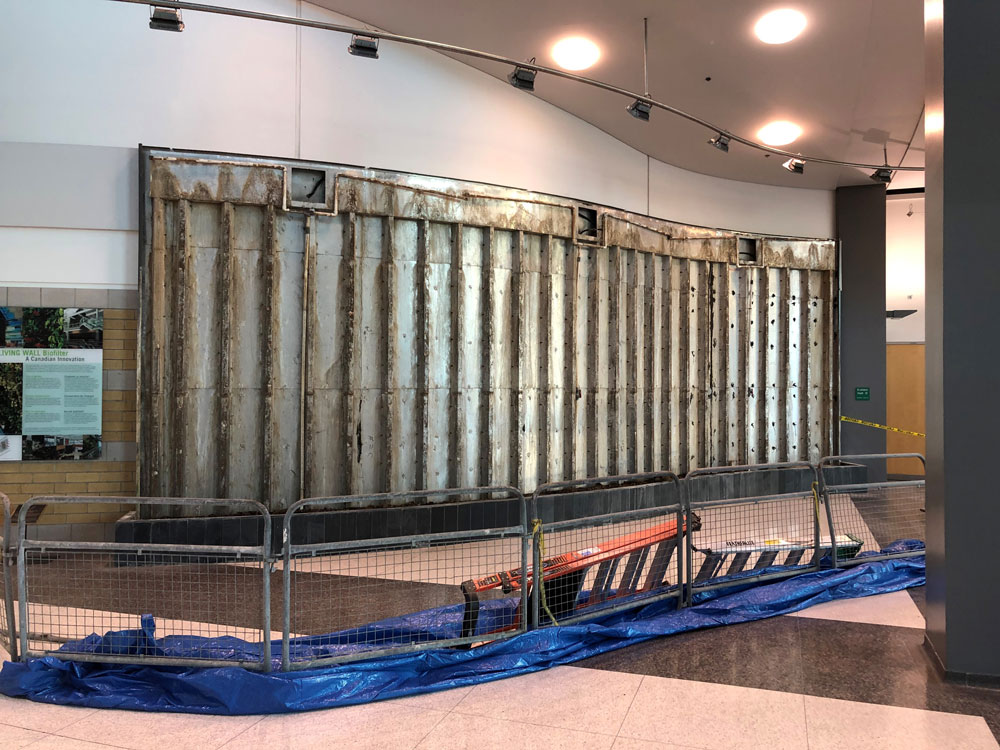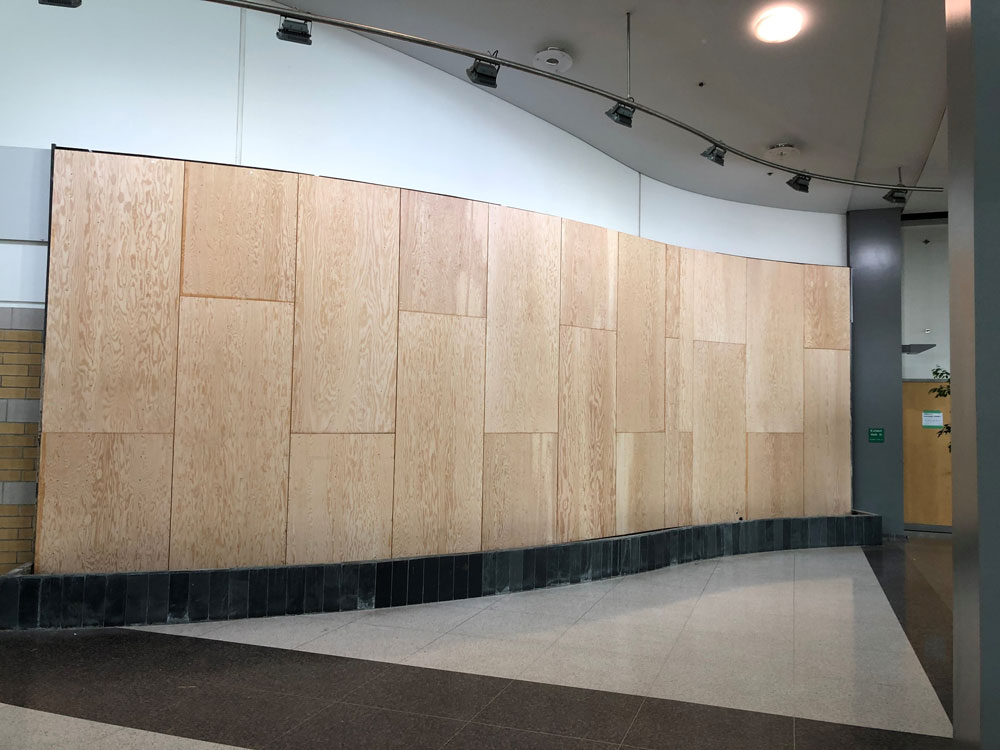 Roughly 6 weeks after the initial take down the green wall plywood backing support wall is ready for its water proof membrane and then installation of the trays and irrigation drip lines and components. Exact measurements of the width of the plywood had to be cut as we were installing flat trays to make a curved wall. The shop drawings specified the exact measurements and installation went without a hitch!
Installation of the trays. Gsky versa trays was the system used to re-install this green wall system into this space. We have found that this green wall only needs to be watered every 7-10 days. The previous green wall water was constantly running. Needless to say that this system is way more efficient from a water usage standpoint. The grow light timing runs were adjusted to 12 hours on and 12 hours off. Previously they had been running them 24/7. This also gave 50% gains in electricity usage for this green wall.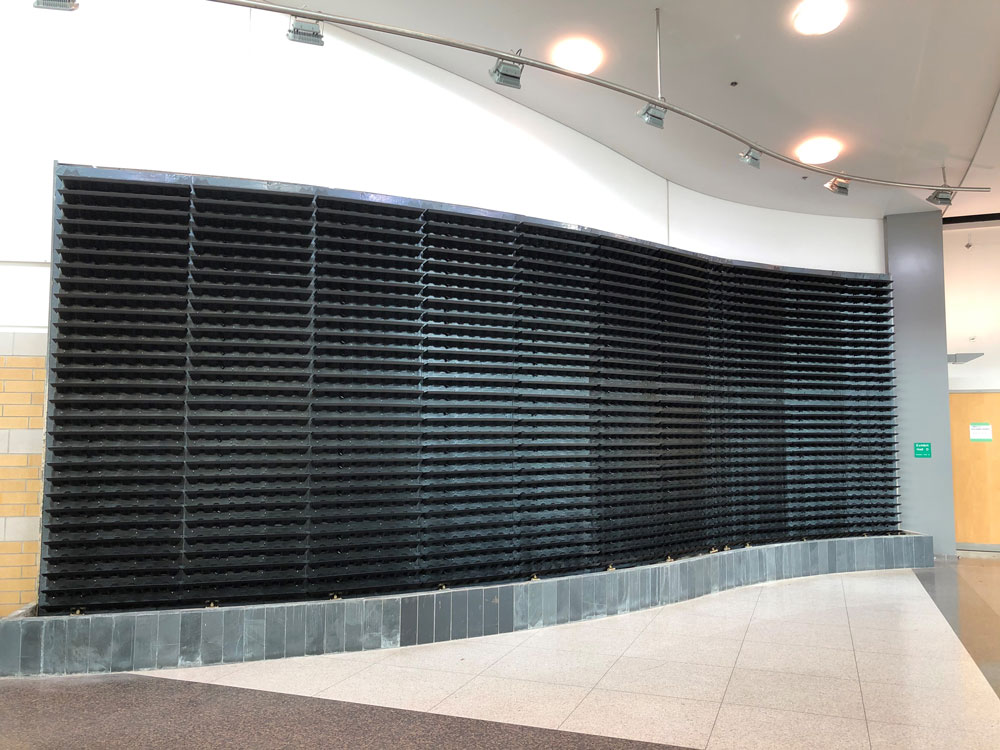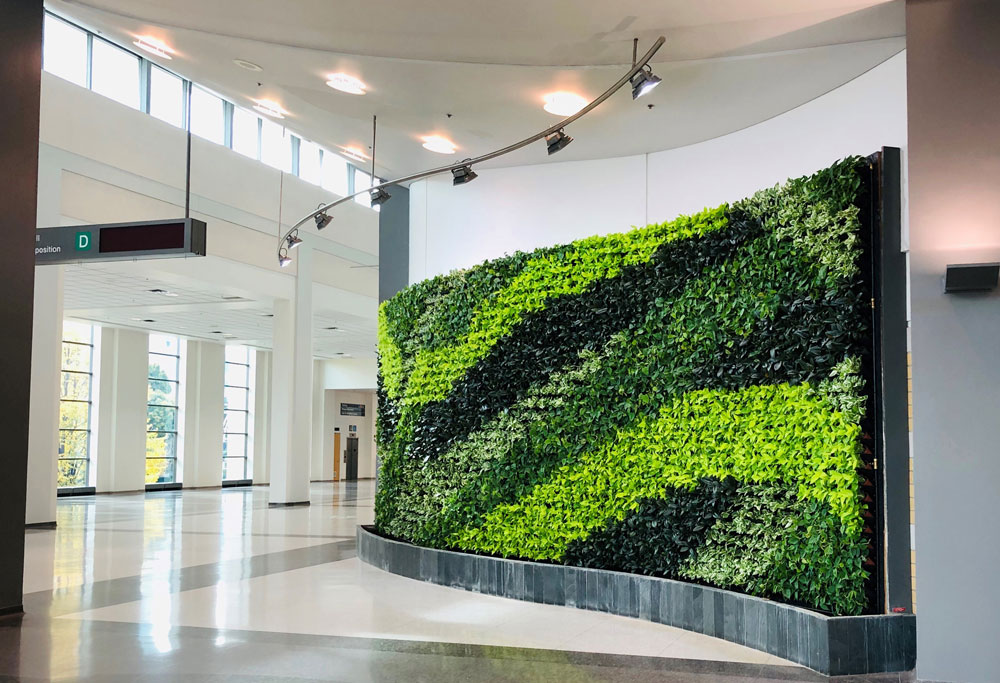 The next day! We keep hearing "wow" from people that worked at the convention centre as well as visitors to the site. This installation was completed in two phases. 1. Take down & 2. Installation. It was approximately 10 weeks from start to finish for the completion of the retrofitted green wall system. It was such a massive change from what they had previously that it was almost unbelievable to them to leave one day and return the next to a fully installed and beautiful green wall.
This photo is from late 2020 one year after installation. The green wall has gotten more dense and has filled out nicely. Little to no replacements have been required except for a couple of stolen plants! We expect this green wall system to give them many years of trouble free biophilic design! This system has many benefits versus the previous felt system. Ease of replacements, water efficiency and less overall maintenance have made this green wall exceed all of the clients expectations!