The object of this project was to transform the center court of Polo Park mall into lush gardens for the second year in a row. This years theme was 50 years of fashion. Polo Park was celebrating its 50th anniversary. As with the previous year the use of the fashion industries spring colors for 2010. The colors for 2010 were cobalt blue, red & coral and had to be incorporated into the design.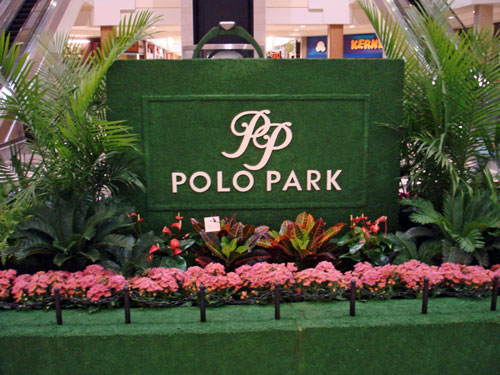 The blue print shows how the custom fabricated lasercut styrofoam interlocks to create the garden hedges and floor. All together around 100 individual pieces had to be painted green, mossed, painted to color match an actual hedge, then fire retarded to meet local fire codes.
Our client wanted to incorporate a genre of fashion displays celebrating their 50th anniversary. We did this by getting 3D custom sculptures made from laser cut styrofoam. The sculptures consisted of a women's shoes, a mans shirt & tie, a purse, a dress & a giant ring. The sculptures ranged from 7ft to 10ft tall!
On Good Friday 2010 and after 7 cube van loads of materials the garden starts being assembled by our team. Roughly 90 man hours of labour were required to complete the onsite setup of these gardens. The right side of the gardens shows the shoes, the dress and a twist water fountain and includes a seating area for photo ops. The edges of the gardens were lined with 470 custom grown pot mums in a coral/pink color. 250 tropical plants were used along with 16 custom designed cobalt blue with red accent artificial displays.
The garden was in place for 6 weeks to launch the spring season for 2010, sadly the gardens were never to be used again.
Air Strength Canada was awarded an Environmental Improvement Award of distinction from the PLANET organization in 2010 for The Gardens at Polo Park In recognition of your commitment to improve the environment by enhancing the world's landscape.