An existing client moving buildings from a Class B to Class A office space looking to bring in several biophilic design elements to helps create spaces of ease and calmness for their staff and clients. Our company worked with the GC during the construction phase and directly with the client post construction to continue to add pieces to their collection whether it be plants, display bowls, xmas décor, etc. A very unique mix of biophilic design pieces helps bring their vision to life!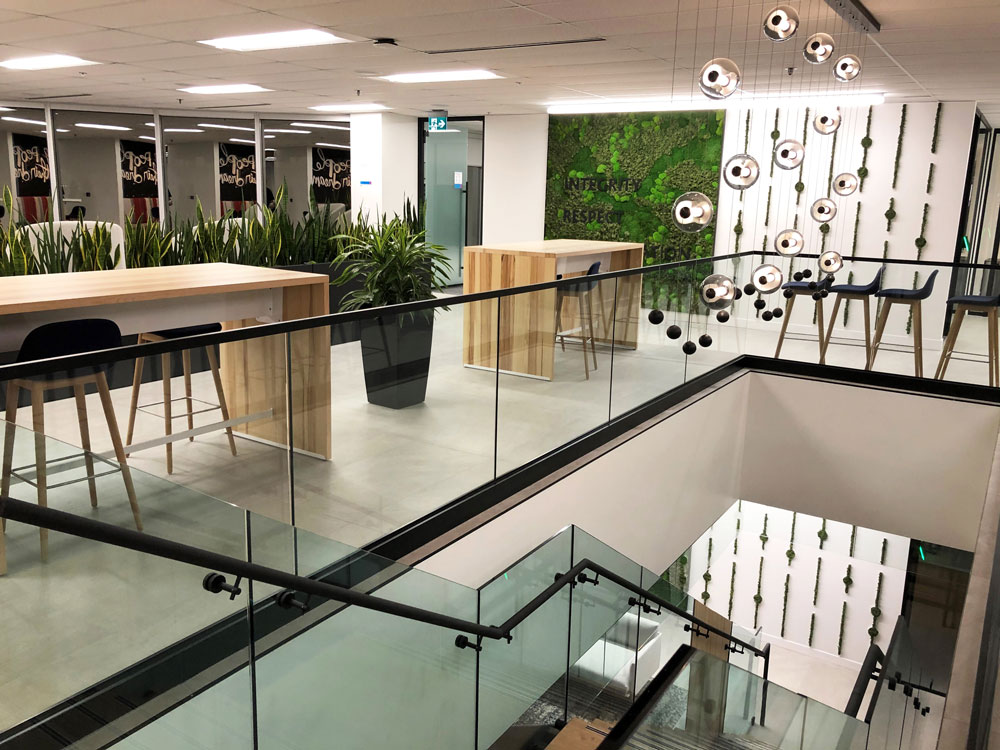 An existing client moving from a class B to class A office space would like to incorporate the latest in biophilic design. A behind the scenes look at the building of two 8′ x 8′ moss walls. Each built prepped for logos to be installed once the moss walls were mounted in place on site.
Delivery day for the aluminum planters. The client wanted to create barriers to separate spaces with these planters. Each planter was planted with a mix of snake plants and zz plants finished off with a top dressing of mosses that match the moss walls across the room.
Another view of the rectangular planters with the snake plant mix. These plants are staged and require bi-monthly visits for maintenance due to selection of low maintenance plants. The matte black color of the planters ties in perfectly with the matte black logo's on the moss walls.
As part of their overall biophilic design xmas decor in colour tones of the companies corporate logos was designed and installed by our company. There are details in the ornaments of animals. These animals have special meaning to the companies client base and we are accentuating that connection in the xmas decor and custom planter displays.
Pops of color were requested by the client to bring additional life to some of the main walkways around the office. Sub-irrigation planters with low maintenance Dracaena lemon lime warenckiis gave a nice shot of color which is what the client wanted.
An Indonesian glass blown teak wooden bowl sits on display at the main reception desk greeting clients as they enter the office. These bowls are custom made for this particular client again showcasing the special meaning of animals. In this case the wolf appears.
Attention to detail is what makes these bowls so unique. These displays are rotated every 6 weeks to keep things fresh and lively for the office workers and clients. Many different mosses, mushrooms and other ornaments and pictures are incorporated into the art pieces. These bowls pack a big punch as there is a lot of eye candy built into them and the client loves these!
A completed 8′ x 8′ moss wall fully installed. Mosses used were green reindeer moss, apple pole moss and dark green sheet moss. Beside the moss wall there are custom designed "Abacus" pieces. An abacus is a mathematical tool which has been used since ancient times. The office designer wanted to incorporate the abacus details to tie in with the offices accounting practices. Each abacus piece was hand mossed with reindeer moss prior to installation on the wall.
A look at the upper floors cafeteria break room area. Many components of biophilic design are shown here. The room to the top left has a plant in a white planter. This is the only plant in the office with a white planter. This room is used as a "healing" room. Designed in conjunction with the rest of the space a sense of well being can be felt when you walk into this area.
A photo from the top floor showing the below moss wall with matching abacus wall that stretches from the floor below to the floor above. This is such a great space. This office has been able to pull together many different types of biophilic design components to help create the wellness feel they were going for. All plants installed are low maintenance type plants and are maintained on a bi-monthly schedule. We currently service this account after hours or on weekends to help create the necessary social distancing to keep everyone as safe as possible from getting and spreading Covid-19. We expect these plants to thrive and survive for years to come and the client is super happy with how this all came together!