After being successfully awarded the interior & exterior plantscaping contract for one of the most energy efficient tall buildings in North America, our task was to transform the main-floor gallery & upper atriums into beautiful park like settings. Strict guidelines were in place for environmentally sustainable practices that had to be adhered to along with strict safety guidelines. Landscape Industry certified technicians, and a preference for locally produced materials were a requirement to follow the efficiency guidelines as closely as possible.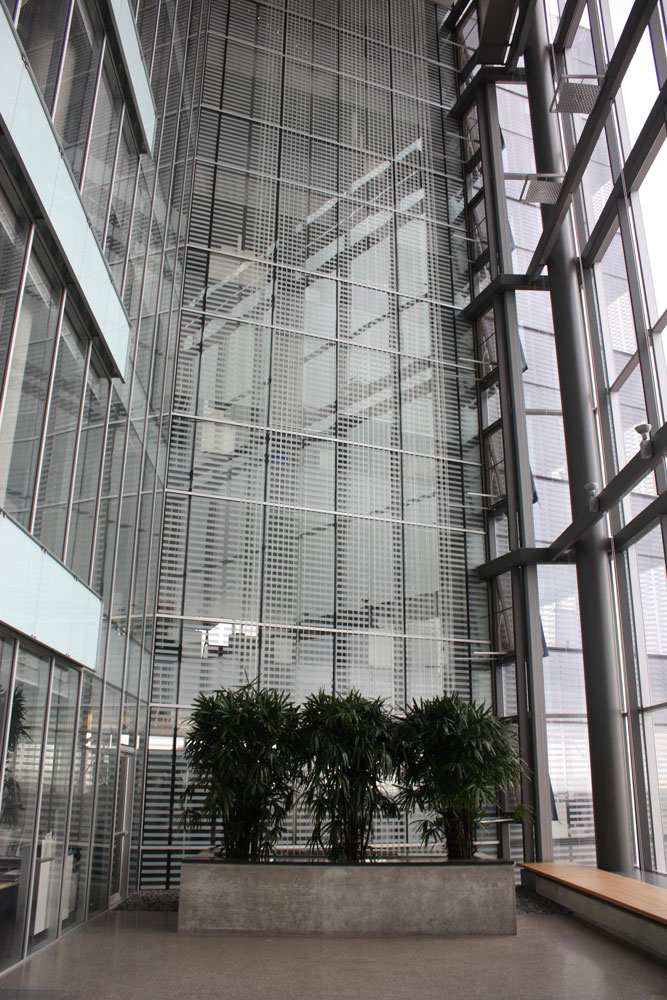 The client requested to have seasonal displays for the exterior of the building and the displays are to be rotated from spring/summer to fall and then winter holiday displays. This seasonal display design is to carry in through to the main floor gallery in the appearance of a color matched floral program. The upper atriums have volatile temperature swings, therefore research was required in order to select the proper type of planting that can handle temperature swings of 18F-90F or -7 Celsius to + 32 Celsius and still look good and be healthy.
Proposed and selected were Rhapis Exselsa in sub-irrigation for the south atriums and Ficus Amstel King trees for the main-floor gallery. Both plants are listed in the Green Plants for Green Buildings top 10 Best plants for ecological benefits, and fit in extremely well with the environmentally sustainable design of the building. Along with the main-floor gallery, south atriums and exterior seasonal displays, 400 live plants of various species are spread out throughout the office tower.
One weekend into taking over the contract for the building, Air Strength Canada created a park like setting that is enjoyed daily by over 2000 staff and the main-floor gallery is a favourite spot for wedding photos and large scale cultural events. The clients vision to enhance the interior and exterior of Manitoba Hydro Place was exceeded beyond their expectations!
Air Strength Canada was awarded a 2012 Plantscape Institute Alliance award of excellence in design for the Manitoba Hydro Place project.