This stunning living wall is located on the historic Yonge Street in Toronto, Ontario, Canada!  A newly renovated mall named Yonge & Eglinton Centre had designed a glass cube enclosure that was built facing Yonge Street to showcase a living wall, so that the green space can be viewed all 12 months of the year at this intersection.  The living wall is 586 sq ft. and starts approximately 20' off the ground and goes up almost 55' tall for a total height from the ground of 75'. This wall is truly a masterpiece of modern plantscaping and is enjoyed daily by thousands of visitors!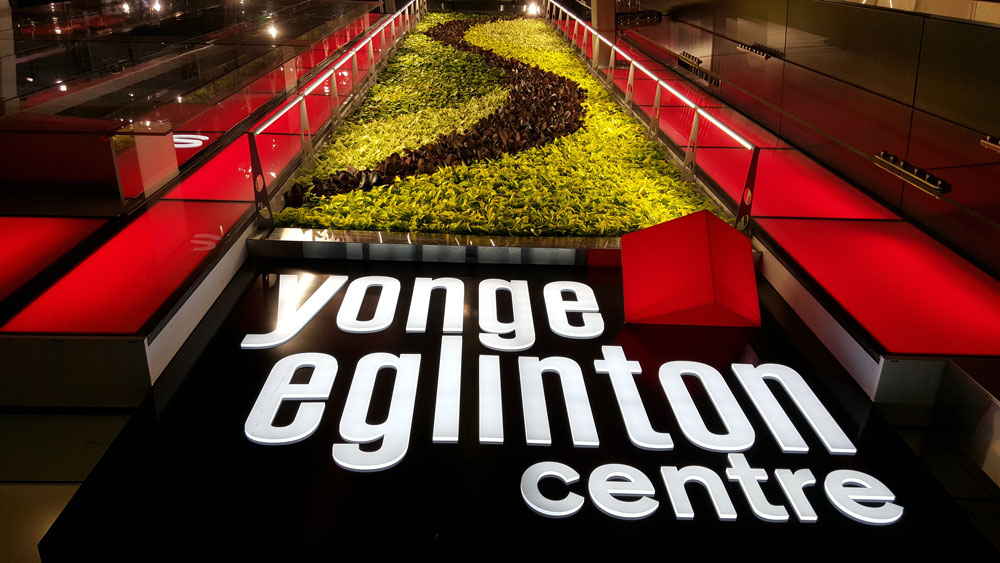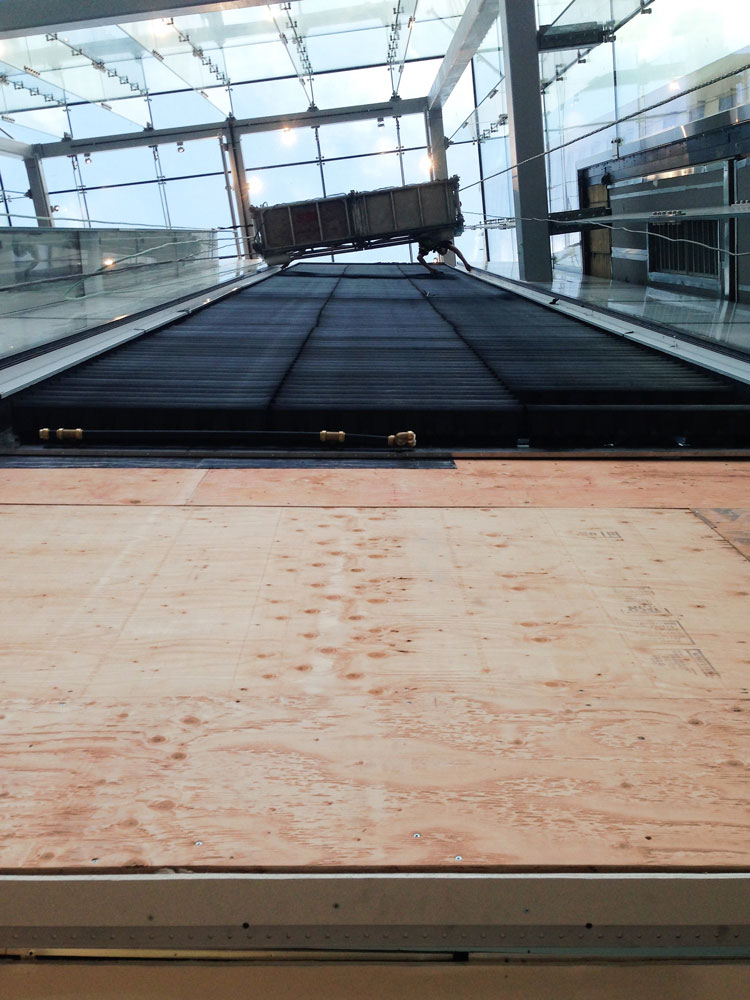 The installation for the wall was completed over two phases.  A swing stage was required to be used for installation and on-going maintenance.  This required that the installation crew complete a WHMIS certification, working at heights certification & also a swing stage operator's certification.  At all times the installers were wearing safety harnesses and tied to vertical lifelines for fall safety.  As this was a construction site during the installation the typical safety gear (steel toe boots, hard hat, safety glasses and high visibility vest were also required at all times when on site).
The installation of the living wall took place after hours from 9pm-7am as this construction site was working 24 hrs to meet their building turnover date.  This made the installation even more challenging.  Not to worry, once you got onto the swing stage at 75' in the air you were wide awake! Once the treys were completed we then hooked up all the irrigation lines and tested the water runs.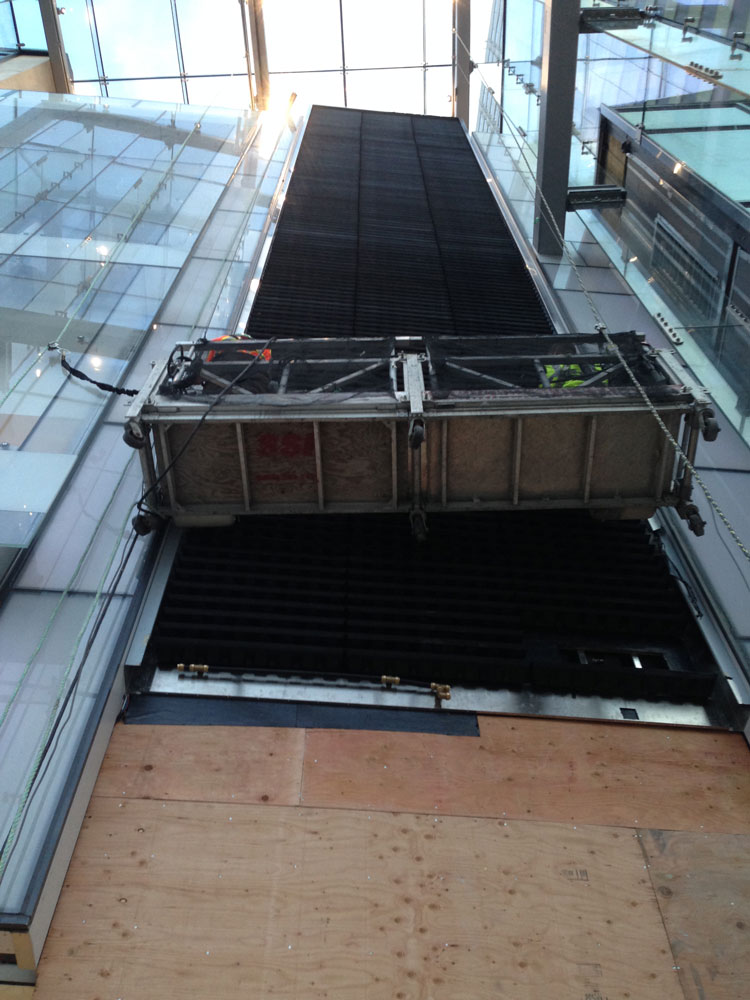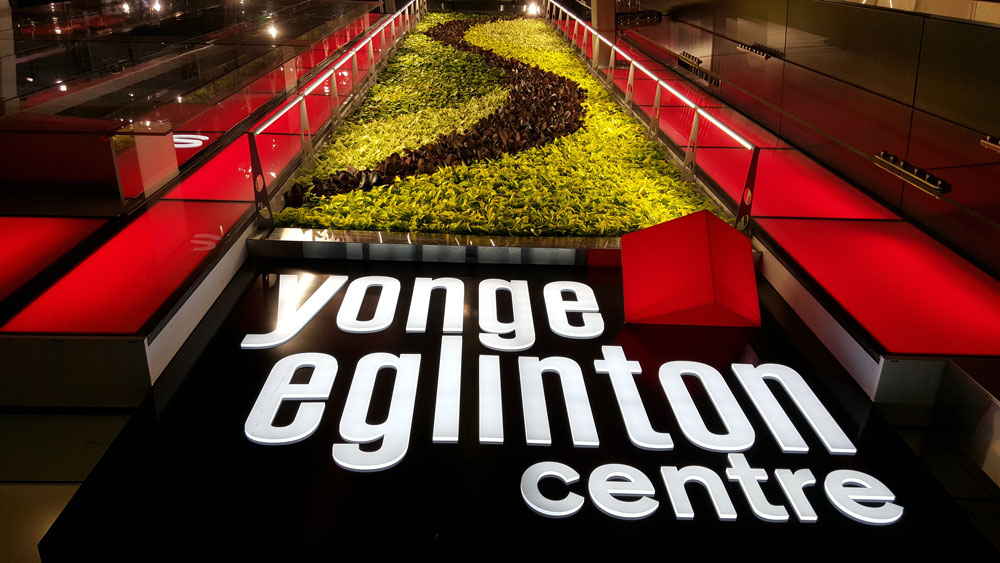 A close-up of the living wall with the surrounding cube in red.  A special feature of this wall is the custom designed light rail system that is seamlessly built into the stainless steel trim. The wall is illuminated with lighting to maintain maximum health of the plants.  The timing of the lighting is adjusted throughout the year to help maintain optimum levels of plant growth.
With the installation fully complete, this living wall boasts a full irrigation control system for water timing adjustments and fertilizer applications.  There have been no water issues on the floor below as the design of this specific living wall system is nearly water tight and is fantastic for an application like this above a public access area. This is great example of a simple yet bold green space that creates a vibrancy that those who pass by can enjoy on a daily basis.